Dealing with the death of a loved one can be an overwhelming and emotional experience. From making funeral arrangements, closing accounts, consolidating debts, securing property, opening a probate, to the more obscure tasks of cancelling voter registration cards and subscriptions, it can be difficult to balance the broad range of responsibilities. In an effort to alleviate some of the confusion and help you navigate this difficult time, we created a checklist of what to do following the death of a loved one.
This checklist provides practical steps to help navigate the weeks following a death. It is best to review this checklist before a death occurs so you can be prepared and have a better understanding of the process. 
What to do following the death of a loved one
Here are a few examples of what to do following a death:
• Secure major property. If your loved one lived on their own, make sure their house and any vehicles are locked and secured. If the home is vacant, consider notifying the landlord and/or police to periodically check on the property. Also secure any offices or other property owned by the deceased.
• Contact a probate attorney. Settling an estate involves several tasks and processes. Some duties require a quick turnaround, so it's best to contact your lawyer immediately. An experienced probate attorney can assist with settling your loved one's estate and handling any additional details, this includes transferring assets and handling probate issues.
• Locate any essential financial documents including: stock certificates, title documents, bearer bonds, bank statements, brokerage statements, deeds, prenuptial agreements, etc.
• Open a probate. If your loved one had a will, deliver it to the appropriate county or city office to have it accepted for probate.
• Obtain several death certificates. These are generally provided by the funeral home or county hall. You will need multiple copies for financial institutions, government agencies, and insurers. We suggest obtaining 10- 15 Death Certificates.
• Discontinue utilities. If the house or apartment will be vacated, ensure that utilities are shut off. Contact and terminate any household utilities, TV, internet, or recurring services.
These are just a handful of the tasks and responsibilities that may be required following a death.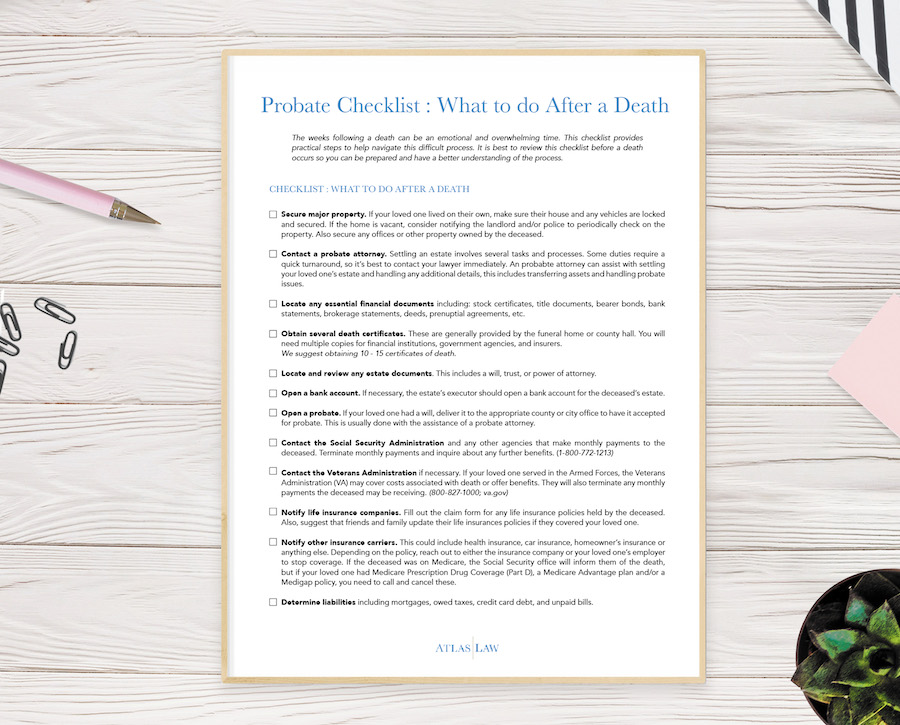 ---
Michigan Probate Attorney
Would you like to learn more? If so, we can help. Call our Michigan probate attorney today! Offices located in Plymouth and Novi, Michigan. We provide estate planning services to all of Plymouth, Canton, Garden City, Novi, Livonia, Commerce, Farmington, and Farmington Hills. We offer exceptional legal services in the areas of wills, trusts, special needs trusts, probate, living trusts, revocable trusts, charitable trusts, medical power of attorney, durable power of attorney, and more!
About the Author: Aaron R. Shahan is an attorney at Atlas Law, PLC. Aaron dedicates his practice to virtually all aspects of estate planning, elder law, and probate.
Free Consultations | Call Today! (248) 773-555