Michigan Estate Planning Attorney

Our experienced estate planning lawyer is here to help you prepare an estate plan tailored to your specific needs. We can help with anything from a simple will to a complex estate plan. Together , we can create a strong legal foundation to protect you and your family from all of life's surprises. Although planning for the future is one of the most important things you can do, knowing which direction to take is not always easy. We can provide you with the individualized attention and in-depth instruction you need.
Our firm can help you design an estate plan to preserve and protect your assets, as well as your personal wishes, before a crisis occurs. We can assist you with the preparation of documents such as a last will and testament, a revocable trust, and setting up a special needs trust. We'll review your financial situation, listen to your planning goals, answer your questions, and return your phone calls. With proper estate planning, we can help you reduce or eliminate taxes and avoid the costs of probate when you pass.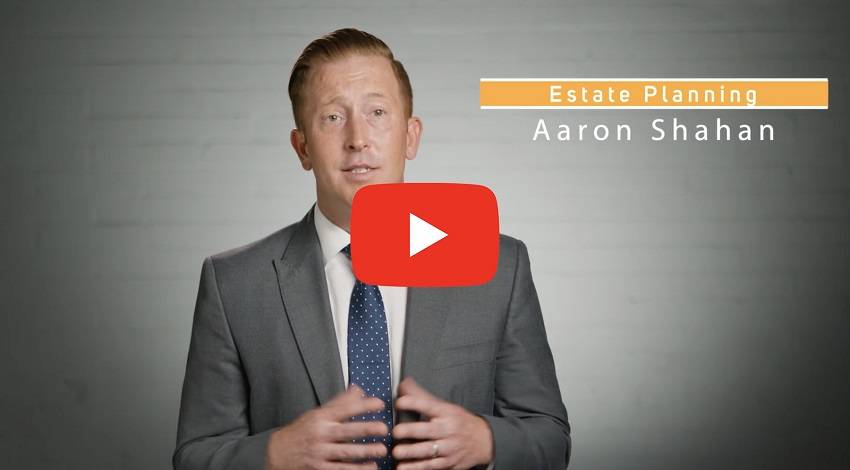 5 Star Rated Estate Planning Attorney
Our estate planning attorney has a five star rating on Google and Yelp. He also maintains a five star rating on Avvo.com where he recently won their coveted Client's Choice Award. Further, Aaron Shahan was selected by Super Lawyers Magazine as a Rising Star for four years in a row. Only 2.5% of Michigan Lawyers are awarded to 2.5% this distinction. He is licensed to practice in Michigan, along with Arizona, and Florida.
What Is An Estate Plan?
What is Estate Planning? Estate planning can be defined as a list of instructions to guide your loved ones as to how to manage your affairs if you are gone, or simply unable to manage them yourself. A properly drafted estate plan allows you to protect your property, your loved ones and yourself. Estate planning is a term that has changed dramatically over the years. At one time, estate planning meant having a will that would go through probate and, if a person was married, titling property jointly with a spouse.
Changes in the laws and changing views of finance, lifestyle, privacy, nontraditional families, and longevity of life have made estate planning far more interesting and, frankly, more compelling for a larger group of people than ever before. For these and many other reasons, estate planning is no longer will planning or tax planning only for the wealthy. Today, estate planning is financial, retirement, business succession, charitable, medical, disability, legacy, and gift planning.
Why is Estate Planning Necessary?
Whether or not you need an estate plan depends on a number of factors. Your family dynamic plays a large role in the decision to prepare an estate plan. Typically, you need an estate plan if you have children and also if you do not have children. If is also wise for married couples to have an estate plan, particularly if you are planning for a second marriage or have a blended family. A plan is also very important for single individuals, especially those with minor children, as they  do not have a spouse to rely up in an emergency. Another concern for many families is planning for a child with special needs.
Your asset portfolio also plays a crucial role in the development of your estate plan. Do you own a home? Operate a business? If you answered yes to any of these questions, then you need an estate plan!
Typical Estate Planning Documents
Revocable Living Trust
A revocable living trust is a device used by attorneys to protect and organize your assets. Revocable living trusts are usually recommended by estate planning attorneys because they can help you avoid probate, which is notoriously expensive. However, they offer a number of advantages over other estate planning tools besides avoiding probate. A trust, along with a last will and testament, is one of the two documents typically used to distribute your estate.
Last Will and Testament
A will, last will and testament, or "last will,"  is a legal document which allows a person, to make decisions on how their probate estate will be managed and distributed after their death. A will has no effect until one passes away. As such, it generally does not offer any protection for your assets while you are living. A will is also typically where a parent would elect a guardian for a minor child to serve in their absence. A will, by itself, does not avoid probate.
Living Will
A living will is a written expression of your wishes regarding end-of-life care which is provided to your family and doctors. It takes effect after you are diagnosed by a doctor as terminally ill or permanently unconscious and the doctor determines you are unable to make or communicate decisions about your care. A living will is part of a complete estate plan. Living wills play a crucial role in fulfilling your wishes regarding your end-of-life care. The State of Michigan does provide free advanced healthcare directives.
Medical Power of Attorney
In Michigan, a medical power of attorney is referred to as a health care surrogate. A medical power of attorney is a type of advanced directive. It is a legal document used by you to designate another person to make decisions regarding your health care, including your funeral and other arrangements. Your medical power of attorney works hand-in-hand with your other advanced directives.
Financial Power of Attorney
A financial power of attorney, is a legal document that you put in place to allow another person to manage your financial affairs should it become necessary due to sudden illness or incapacity. Incapacity can arise from a number of different causes. Sudden illness, injury, an accident, and advanced age can all lead to incapacity. A financial power of attorney must be executed while you have the capacity to do so.
Lady Bird Deed
A Lady Bird Deed is a simple and inexpensive tool used to pass real property, such as your home, to your heirs upon your death. It helps avoid probate. Meaning, your real property passes to your named heirs automatically—without court involvement. Lady Bird Deeds are very common in Michigan and have a number of other notable benefits.
Special Needs Trust
Special needs trusts are a special type of trust designed to manage assets for a disabled person. Typically, the trust holds property for a person with a disability who is incapable of managing his or her own financial affairs. Special Needs Trusts can be used to shelter assets
Michigan Estate Planning Lawyer

There are many details involved in creating your estate plan, and it is never too early to start. Even if you have already created a will or trust, it is important to revisit the terms so that you can make any necessary changes. Our estate planning lawyer is located in Plymouth, Michigan. We serve people all over southeast Michigan including Plymouth, Canton, Northville, Garden City, Commerce, Ann Arbor, Farmington,  Livonia, and Westland.
We offer free consultations and flexible appointments to meet your needs, including weekends and after-hours appointments.
To learn more about your estate plan, call us at (248) 773-5555.
Want to learn more? Check out our
Free Estate Planning Resources
including checklists, books and more!